Puppies from our kennel are bred at home as family mammbers. Thanks to this they have superbe contact with people. Thay are healthy, well cared and under the eye of a veterinary. Puppies from Meldor find new homes in loving familys in Poland, France, Spain, Germany, Suitzerland, Belgium, Luxembourg, Austria, Latvia, Netherlands, Italy, Israel, Finland, Cyprus, Canada and England. With their owner they have many succes on shows. Thanks to their grate hunting instinct they feel marvoulously hunting in the fields.
IN THE TIME TO COME WE PLAN LITTERS OF:
- IRISH SETTER
- BRAQUE DE L'ARIEGE
- ENGLISH SETTER
All interested please contact us:
meldorsett@gmail.com

On the 4th August irish setter puppies were born. We have 7 girls and 3 boys.
All interested please contact us:
meldorsett@gmail.com & borkokarali@gmail.com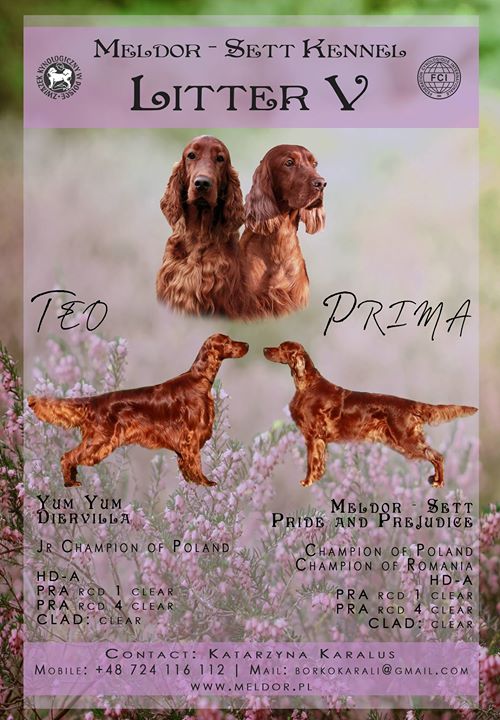 Ch.Pl, Jr.Ch.Pl
Yum Yum Diervilla

Chase Cinammon's
Sh Ch
Copper's Champagne on Ice at Aoibheanne
Branthi Cinammon's
Ch.Pl Naughty But Nice Diervilla
Scotselaw Rozzano
Ch.Pl Romarne Hope
Ch.Pl. Ch.Ro
Meldor-Sett Pride and Prejudice

CIE, Ch.Pl, Ch.Lt, Jr.Ch.Pl, Jr.Ch.Cl.At
Meldor-Sett Eye Catcher
Sh Ch, BOB Crufts 2010
Sumaric Shadow of Mr Jingles
Ch.Pl Dafne z Orszaku Chrobrego
Ch.Pl. Jr.Ch.Pl,Hr, Jr.Win.Eu.Cent&East'08
Dawnmaen Calypso Dancer at Meldor
Dawnmaen Tamdhu
Karidell Belle Rouge at Dawnmaen